So when i thought of starting this interview series, I realized that there are so many people that i know that are giants in their respective fields.  To get us started is someone that i look up to immensely.  As i sit here and write, i am listening to Kamasi Washington's song "Changing of the Guard" from an album called The Epic.  It is so majestic and regal, and that coupled with the man i am about to present to you all makes me feel like i am in the temple of Black Excellence!!!  And what better way to introduce Tony Medina! He stands today as one of us who took his charge seriously and came forward willingly to take his place amongst the Guard.  Each of us have been given this charge with the gift of life but some never acknowledge it.  Tony Medina is not one of them.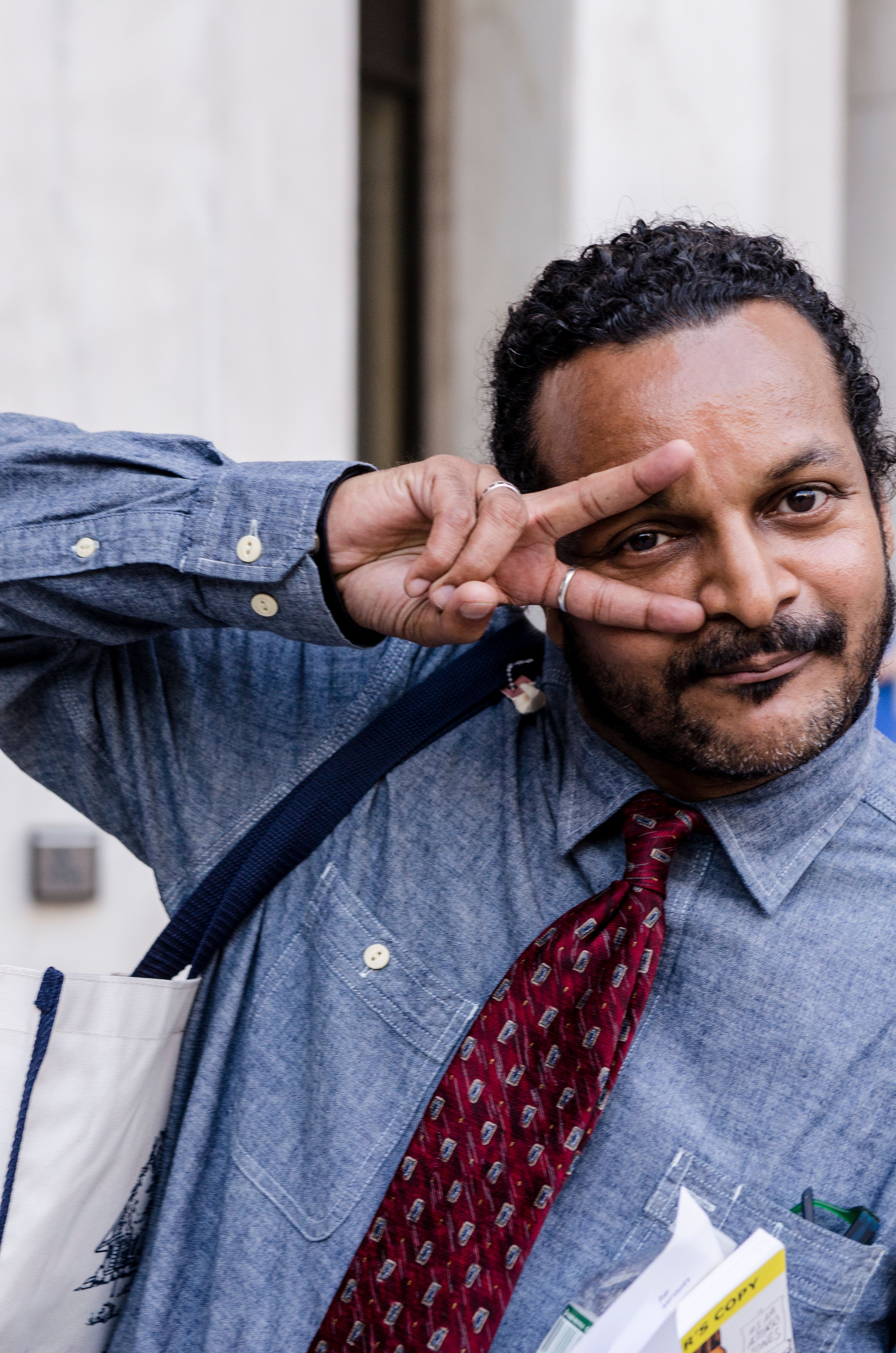 Born in the South Bronx and raised in the Throgs Neck Housing Projects, Tony Medina is a poet, graphic novelist, editor, biographer, and author of award-winning books for children and young adults. A two-time winner of the Paterson Prize for Books for Young People (DeShawn Days and I and I, Bob Marley), Medina is the author/editor of twenty-one books for adults and young readers, the most recent of which are I and I, Bob Marley (2009), My Old Man Was Always on the Lam (2010), finalist for the Paterson Poetry Prize, Broke on Ice (2011), An Onion of Wars (2012), The President Looks Like Me & Other Poems (2013) and Broke Baroque (2013), finalist for the Julie Suk Book Award. He has received the Langston Hughes Society Award; the first African Voices Literary Award; and was nominated for Pushcart Prizes for his poems, "Broke Baroque" and "From the Crushed Voice Box of Freddie Gray." Medina, whose poetry and prose appears in over 100 anthologies and literary journals, is the first Professor of Creative Writing at Howard University. In 2016, Jacar Press of North Carolina published his anthology, Resisting Arrest: Poems to Stretch the Sky, on police violence and brutalities perpetrated on people of color. In 2017, Tu Books, an imprint of Lee & Low Books, published Medina's debut graphic novel, I Am Alfonso Jones, a Barnes and Noble Bestseller, and Penny Candy Books of Oklahoma published Thirteen Ways of Looking at a Black Boy (2018), which received the 2019 Lee Bennett Hopkins Poetry Award honor and an Arnold Adoff Poetry Award Special Recognition. Medina has read/performed his work all over the United States, as well as in Germany, France, Poland, the Bahamas, Puerto Rico, and the Netherlands. His latest book is the poetry collection, Death, with Occasional Smiling (Indolent Books, 2020).
So now that you have been given an idea of what i mean by taking his charge seriously, you can take a chance to find his works and really dig deep into what this brother has to say to the world.  We have not been able to chop it up face to face just yet, but i am hopeful we will get to do so in the future in the follow up to this interview.  As i said I have been an admirer of this man's work for many years, but what is really awesome is his humility despite all of these accomplishments. I reached out to him, asked him to do this project, sent him the questions and boom, he sent them back to me so fast i didn't have time to blink my eyes!!! I sent this group of questions out to a couple different people and none were so quick to respond!!  What you will read below is this interview and his is the first of a few that will be featured here where each person was asked the same basic set of questions.  I guess if i had to name this group of questions something it would be Covid and Black Liberation:  A tale of two pandemics.  Yeah...i like that.  And I love the variety in the answers.  i think you will too.  This is the voice of Tony Medina.  His answers are in bold print.
The Liberator Talks: Tony Medina 
Me: How have you been adjusting during the shutdown? What have you been doing to keep yourself busy at home? 
Tony:  I don't find the lockdown that arduous. It's the perfect situation for a writer/artist. I have been spending more time organizing my space; working on my projects; and watching a lot of great movies and TV shows on the various platforms. I've also been reading, of course, and speaking with family and friends on the phone, and conducting a lot of Zoom poetry readings, classes, and such. Therefore, I do not feel isolated. I get out of the house to run errands, shop and conduct yard work, so that helps. I never leave the house without a mask—I even wear it in my car! But above all, I am able to write—or think about writing! 
Me:  Do you feel like the shutdown has hurt or helped us in terms of the fight for black liberation? 
I think the lockdown allows us to first and foremost protect ourselves and our loved ones and neighbors. It also allows us to communicate more, either on social media, the phone, or Zoom. A lot of folks have been able to work together through Zoom programs, folks who more than likely would not be able to get together. Also, the Zoom programs have provided a sort of community for our elders who live alone to engage in and not feel so lonely and isolated. I think the lockdown has led to an outpouring of Black Live Matters activists taking to the streets after the police killing of George Floyd, Ahmaud Arbery, and Breonna Taylor. 
What are you listening to right now that is a go to for mood?  
Right now at this writing, I have MSNBC in the background. I should turn it off so that I can have a bit more quiet and convene with my thoughts, but it's post the duel prez town halls and I want to hear the reviews—and the Trump bashing, which I dig! I should have some Pharoah Sanders playing, since he just turned 80 yesterday!!! 
 Do you have any thoughts about the current push in America towards "wokeness?" Do you think that American corporations including sports teams and others are serious about shifting or is it smoke and mirrors? 
I think so-called wokeness needs to happen organically and through all the major institutions. I think it is a mixed bag. Capitalism will always be a brutal motherfucker, as I have said in a poem. And corporations don't give a shit about human beings. In fact, the courts allowed for corporations to be deemed people in order for them to pour millions into political campaigns to have their lobbyists do their bidding; and they are even packing the courts with right-wingers—been doing it for 30 years! I have a cynical view of the corporation suddenly pushing "wokeness," because their bottom line is always profits—over people. But there are those individuals who work for them, and possibly run the corporation, who may be well-meaning. But they are in the deep minority. In the 1970s, many Black writers were getting published. That lasted for a minute and it was back to the usual systemic control of cultural excluding many Black genius creatives. But who knows? It does seem like a slight seismic shift has occurred. Besides, we cannot ignore the fact that white people are increasingly becoming the minority in the country. It's time that they get woke or get broke! 
 What do you think of Ice Cube meeting with President Trump to "advise" him on his Platinum Plan for Black America??? 
I think Ice Cube allowed his wealth and celebrity status to get him played by Trump's campaign. He can't be that naïve to believe that Trump was going to cough up 500 billion dollars for the Black community who he loathes. I think a lot of these celebrities, who may be well-meaning, get caught up in their own hype thinking they really have pull. They fail to hook up with Black activists and the Black intelligentsia who have been fighting the good fight forever. And they either allow themselves to be used and abused by those in power, or they are operating out of their own class interest, and not at the behest of the community. Ice Cube has been a relatively conscious artists, but we can't forget he is a millionaire. He may have meant well, but you don't make a silly mistake like that 20 days outside of a major presidential campaign when we need all hands on deck. 
6). Are there any projects you were working on pre covid that you have had to restrategize to accomplish? How did that process start? How long after being lockdown did it take you to get back in workmode. Any major travel plans once things open back up? 
I was working on my next book of poetry, Death, with Occasional Smiling (Indolent Books, 2020), that should be coming out in November 2020. Ironically, I had that title for several years before the pandemic hit. In the midst of the pandemic, I was inspired to write about the pandemic, of course, and I had written pieces about George Floyd and Ahamau Abery.  
So, as I was re-working the collection, I factored those new pieces in. I teach at Howard University (Professor of Creative Writing), so I was already getting prepared to teach remotely when the country was on full lockdown mode. So the transition wasn't that drastic for me personally. It's been my desire for forever to be a full-time writer, anyway; so the lockdown allowed for that, ironically. It's just been hard for the students to adjust because they miss the social aspects of campus and college life. And I have been fortunate enough to be able to work from home, unlike many essential workers who risk their health and lives every day to service the citizenry. We need to show them more appreciate them and protect them and compensate them.  
Travel plans would be to California. Friends have been begging me to come out west. And perhaps Europe and South East Asia. But the Caribbean is probably calling my name—not to mention a beach resort town in Mexico a friend lives at.  
Are there any organizations locally in your neighborhood or in your runnings that you know of that is doing the real righteous work in the community??? What makes their work righteous??? 
The libraries in my community have been quite helpful and useful. And the American Poetry Museum in Washington, DC has been opening their doors to the community. Other than those, I'm not familiar with other organizations, but I suspect there are many ensuring people get food, shelter and proper medical attention and care.  
What does it mean today to be a woke? "Conscious?" 
To be woke is to be conscious. To know your culture. To be hip and sensitive to other cultures, other people and gender identifications. To be open minded and to be fully engaged in the world. To be work is to always be in the process of learning and growing and changing and evolving. Essentially, to be woke is to be fully human. All the way LIVE. Eyes wide open (all 3 of them!)—as well as your heart! 
 As someone working within the education system, do you see this recent "shift" as something that is sustainable? Let me rephrase. Do you see it as a means to reform the current education system?  
I think there is—and has been—a dearth of curriculum reflective of the diversity of the American student. I think Black and white alike are deprived when erasure and ignorance exist in education systems that fail to engage students with a full depiction of the history of the world and its various peoples and cultures. There needs to be a holistic organic approach to exposing students on all levels on the various and myriad contributions of all humans on this planet. A lot of educators have been in a tug-o-war with a system that, to a certain extent, still operates on a 1950s model. But the tide is changing. Teachers and students alike are becoming woke by virtue of their exposure and curiosity to many cultures and perspectives through various mediums and platforms. This is most certainly playing itself out in the literature that is being produce and visual productions of film and television. Also, our country continues to be a melting pot where cultural exchanges are inevitable. And this is a good thing. I write graphic novels that represent a broad spectrum of young people getting along swimmingly yet also engaging one another about issues of race, class, etc. The country is changing because the people are changing; thus, the schools must change.  
What do you think of the notion that the 1619 project is anti-american? Have you read it? If so, did you find any of it problematic as relates to your own studies. 
The 1619 project is the most American you can get, outside of telling the true story of our indigenous brothers and sisters from the Caribbean to the Americas. Anyone who has a problem with tracing the roots of enslavement in this country should have their head and heart examined. The 1619 project is about setting the record straight about our humanity—and inhumanity. One can only be the better—and clearer—for it.  
Is it possible to be just a man or woman when you are Black in America or is it necessary to cloak yourself in your identity. In your mind, what does it look like to cloak yourself in your identity in a healthy way??? 
I believe people need to be very specific and detailed when claiming and exclaiming their identity. Audre Lorde taught me that. She had a number of identifiers that formulated her identifying makeup. It is the most human form of expression knowing who you are. And most times it is intersectional, multi-layered and multi-dimensional. Humans are complex beings. And sensitive ones too. We're also tough and resilient, so we can handle many handles (pun intended.) Blackness is big and broad but it is not the extent of a being. Like Walt Whitman said, "I contain multitudes!" And Langston Hughes—"I, too, am America!" 
Last question. What do you think would hafta happen for black people to get reparations in America? Well its two questions. Is it possible in our lifetime? 
There used to be a time when people could not envision a Black president or a Black woman vice president. Reparations is on its way. America is going to pay for its sins—one way or another! That train has left the station eons ago! Our Ancestors will speak!