Welcome back to another edition of The Liberator Talks.  I'm your host, Toussaint The Liberator and i have someone special to introduce to all of you. 
Moon is one of the baddest musician i know and has been creating not only music but all kinds of different art for many many years.  We linked some years back and he was one of a few producers from my very own Black Gold project that came out in 2010.  He has before and since then been a collaborator on an exhaustive list of musical offerings from artists all around the world.  He is a humble man.  A studious man.  And a very accomplished artist in his own right.  I
He was kind enough to give me a little bit of time and to take a stab at my question set that i have named Covid and Black Liberation: a tale of two pandemics.  Or something like that.  Anyway, coming before you ladies and gentleman is a good bredren.  His name is Moon Bain.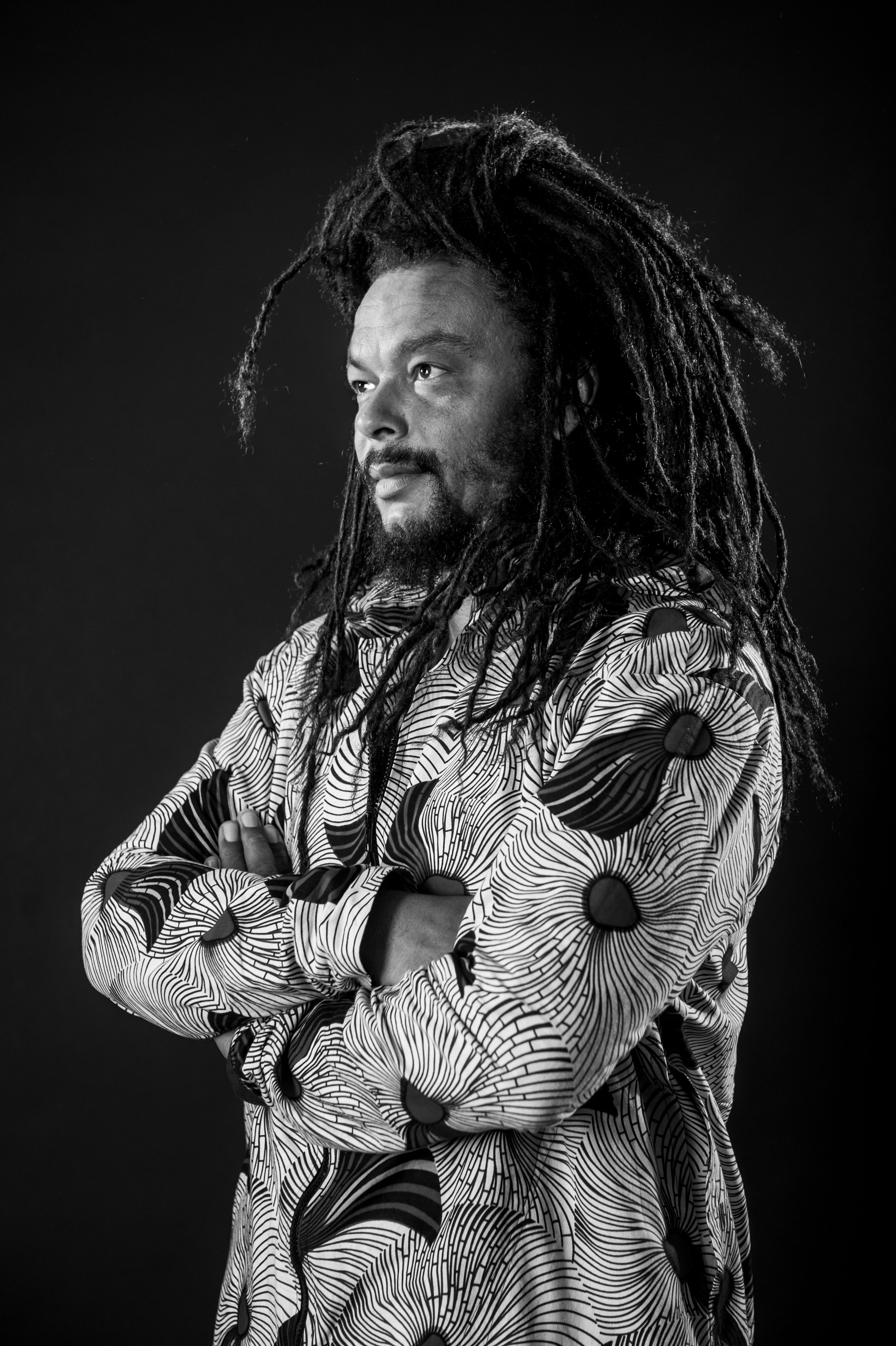 Andrew "Moon" Bain is a visual artist, record producer, musician, songwriter and 
Graphic designer. He was active in the arts as a youth in Seattle, Washington, as a cellist in the Seattle Youth Symphony Orchestra, and as an apprentice at Dale 
Chihuly's famed "Boat House" artistic glass studios. He relocated to Providence, Rhode Island as a young adult and earned a BFA in sculpture from the Rhode Island School of Design. 
He spent 13 years living in Brooklyn, New York. He has traveled and worked extensively in the United States, Europe, Jamaica and throughout the Caribbean, which indelibly influenced his life, art and music. As co-founder of Lustre Kings Productions, a US based reggae label, he continues to make a significant mark in the genre of modern roots reggae music. 
Bain is an accomplished sound recording and mix engineer with several albums and over a hundred records under his belt. He is also one third of the ever prolific 
modern roots reggae production team Zion I Kings, receiving a Grammy nod in 2013 for Snoop Lion, Reincarnated. He also produces in the writing- production team PaperStars, with Jahdan Blakkamoore and solo as Moon Bain. Bain released his first 45 records out of Jamaica under the name Digital Ancient, he now performs live dub mixing and releases music under this moniker as an artist. 
He has written and produced records for such compelling artists as; Pressure Busspipe, Chronixx, Protoje, Wyclef Jean, Sizzla, Snoop Dogg, Major Lazer, Bass Nectar, Stick Figure, Midnite / Akae Beka, Anthony B, Blakkamoore, Lutan Fyah and many others. 
Recently, Andrew completed production on Jahdan Blakkamoore's third full-length studio album, Upward Spiral and Rhythm of Serenity with French / New Caledonian artist Marcus Gad. As well as recent co-production on Chronixx featuring Kabaka Pyramid "Same Prayer" and Akae Beka featuring Tiken Jah Fakoly "Everything Blessed". 
  In 2010 he co-founded the Rock & Soul band, Boo City, with friends Tai Awolaju and Harrison Milloff. Boo City's sound has many musical influences including Soul, Rhythm & Blues, Rock, Folk, Hip-Hop and Reggae. In addition to Boo City, Andrew is currently working on a solo project under the moniker, Brown Bones, an acoustic, urban-folk inspired album with subtle electronic elements. He continues to play, practice, perform, create, write songs, make records, images and paintings. Bain lives and works in the woods of Central Massachusetts.
Chronixx featuring Kabaka Pyramid "Same Prayer" 
Akae Beka featuring Chronixx "Black Carbon
Brown Bones "These Old Ghosts"
Below you will find our conversation.  
THE LIBERATOR TALKS:  ANDREW "MOON" BAIN
Me: How have you been adjusting during the shutdown? What have you been doing to keep yourself busy at home and what have you been doing to keep yourself visible in the music marketplace? 
Moon: I'm good. I like to be home, in the studio staying creative anyway so "stay inside for 4-5 months" to me was  "Make 10 albums"  I am about to 7 i think…? 
I really dove in and wrapped my head around a lot of the admin side of releasing music and trying to pivot to how we are all adapting to this thing. I learned a lot and was very lucky to have a couple projects get licensed so that has been very instructive. Working with other labels and adapting together to getting records out. 
ME: Do you feel like the shutdown has hurt or helped independent musicians? 
Moon: On one hand it has severely hurt musicians. We were born to project our souls.  When we are denied that kinetic and immediate connection to share that in close proximity to other beings, it is a loss, for us and for the community. Live music is more important than people realize. It has also hurt us by brutally forcing people to use technology to find a way to connect. It is sick. Forcing us to attempt to make some type of kinetic connection that just does not exist through a screen. It is impossible.  
The way it has helped is it gave us who tour constantly or often play out,  time to slow down, reflect, regroup and hopefully practice. Sharpen skills and understand other aspects of being a musician, producer, writer or performer 
How long have you known Toussaint The Liberator and what is your favorite memory of the time you all spent together? 
I met Toussaint around 2005-6? Eric Krasno connected us and we linked in Providence at a Midnite show.  
My favorite memory of hanging with Toussaint is at my Birthday party a few years ago, he performed with the Naya Rockers, opening up for Kabaka Pyramid and he absolutely transformed the room with love, soul, light, high energy and he and his daughter singing together flattened the place. That was a special night and cool hang after the show. 
Have you ever met anyone blacker than Toussaint? (Just kidding we all know the answer) 
Yes, I know many Africans. I also toured with the blackest person on earth so… that is an easy Yes.  
 Any new projects in the works that have you excited right now? 
Yes, many, Star Chile EP coming out on Easy Star Records. 10/30. Blakkamoore, Upward Spiral ( deluxe ) 11/13. This has a dope Adam Deitch & Borahm Lee (BreakScience) Remix of a Snoop Dogg x Blakkamoore record I produced.. Been working with an incredible talent, MediSun, we have a project forming. I also did an album with Lutan Fyah over the lockdown that is off the hook! As well as my solo album, Brown Bones that is done. Lots of stuff brewing and releasing soon...Psyched about it all. 
You are a visual artist as well as a musician. How does one inform the other or are they two.completely different things? 
Yes they do. Music is very colorful and textural, in a conceptual and spiritual sense. In the same way, images and visual art are incredibly lyrical, melodic and visceral. 
 When i met you you were mostly in the city. But now you have been spending more time.in the country. What are the pros and cons? 
Pros- I am in tune with the earth in a way that is strong and helpful, especially in these times. Sustainable living skills have gone up exponentially ( timber, land management, building, farming, foraging etc). I dig it man . Weekends turning off technology and diving into creative projects or just keeping in balance. I barely get cell service out here. 
Cons- I miss black people exponentially.  
Do you have any thoughts about the current push in America towards "wokeness?" Do you think that American corporations including sports teams and others are serious about shifting or is it smoke and mirrors? 
I do not have any thoughts on "wokeness". I am not sure as I don't really think about this concept. Rasta has been "woke" so it is nothing new to be aware of  our surroundings and what lurks in the darkness. 
If we are speaking about corporations being aware and proactive about paying Black people what they deserve in this country then yes, I think it is smoke and mirrors.  
What do you think of Ice Cube meeting with President Trump to "advise" him on his Platinum Plan for Black America??? 
The sorcery that took to occur, is powerful. 
What is the sound you seek when producing? For me the lyrics come across my.head like a teleprompter. What is the equivalent for that with a musical production? 
It all depends on the artis, the vibe, the genre etc. I do a lot of different kinds of music. I also write a lot of songs with and for the artists I work with so it all is different. I do find the best stuff, almost always happens quickly. It flow's easy, like pouring water into a vessel. It's often a chord progression or just the drums but I have no particular formula.  When producing, I think it's cool to be pliable and competent to create music in a variety of ways. A simple loop, one vocal idea, one riff or a single sound could all develop into a full-blown song or track.  I also make stuff super slow, that takes time and blossoms over a few days or weeks, while it's on repeat in the studio. 
I'm a songwriter as well as a composer and producer. Songwriting with other artists is always special, different and case sensitive. I think being a songwriter influences a type of varied approach to music making. Especially when you co-write. You get used to being pliable and elastic when working with others, stretching to make an idea be the best it can be. 
Are there any organizations locally in your neighborhood or in your runnings that you know of that is doing the real righteous work in the community??? 
I am not sure where I live . I am in a very remote area and keep to myself and my family for the most part. I do admire the work that "Color of Change" does. Check them out if you haven't heard of them. 
 What does it mean today to be a rasta? "Conscious?" 
What it has meant since the dawn of time. Praise God, live upright, be humble and proactive towards making this world better, while you are here. Honor the personage of Haile Selassie I and the ancient African Monarchy. Nothing nah change. Same as it ever was. 
Last question. What do you think would hafta happen for black people to get reparations in America? Well its two questions. Is it possible in our lifetime? 
Justice. Real justice immediately. As fast as a global Covid lockdown. No long discussion. We know it is due. Put a plan in place and execute it. distributions of all the stolen and usurped generational and ancestral wealth.  Real equality on the most basic human level. Not "Martin Luther King Day". It is possible. I have to believe that.